I went to Science World during winter break to see the Science Behind Pixar Exhibition, and I got to say that it really reminds me of how much I love these movies. So I thought it would be fun to make a top 10 list of all my favourite Pixar movies and some things I learned from my visit to the exhibit.
Note that this is my own personal opinion, and it doesn't based of any online rankings or reviews. And for more information on the Science Behind Pixar, click here.
Now let's get right to it.
10. A Bug's Life
A Bug's Life is a story that I've absolutely loved, growing up as a child but never truly understood until quite later. Since this is one of the earlier movies, Pixar was still trying to figure out the different effects of their graphics. The biggest challenge for them is probably trying to achieve the right scale throughout the movie, for it does take place on lower ground level with tiny bugs as characters.
9. Toy Story
Toy Story is a beautifully crafted and nostalgic story and is significant to any kid's childhood. As some may or may not know, Toy Story is actually the the first animation that's made using computers. It was revolutionary for the animating world, for as you can see that all animations are now made on computers. However, before any of the technology can get to work, many story artists work together to come up with character and setting sketches that creates the world of the animation.
8. Brave
Brave has a very interesting plot, and I'll say the perfect family-time movie. This movie, in particular, contains a lot of simulations. From hair and clothing to the background and extra effects, they are all put into their own category of simulated elements. Simulation technical directors then use computer programs to create effects and move the character's hair and clothing.
7. Finding Nemo
Finding Nemo is one of the first Pixar animations I've watched and loved. I also found out that for each Pixar movies that's being made, the creators would try to challenge themselves to create a new effect that the audience might have not seen before in an animation. In this animation, the greatest challenge for the animators is to create the underwater feeling, whether it's creating thousands of water bubbles or adding the addition motion of the currents.
6. Inside Out
Inside Out is one of the newer Pixar movies with amazing graphics and a very imaginative plot line. An interesting point that I want to touch on is the amount of time it takes to render a movie. Rendering is basically the process of formulating, adding colour, shading, and texturing of an image by determining the colour of each pixel. In this animation in particular, it takes about 33 CPU hours to render a single frame, and we need 24 frames for a single second. If we do the math right, it can take up to 500 years, but with the "render farm", composing of 2000 machines, and 24,000 cores that Pixar owns, the job can be done in up to two years.
5. Up
Up is one of the feel-good movies that I can't help but smile while watching. One key point in this animation that really pushes it to the next level is its lighting. You might be familiar with the phrase "lights, camera, action" in cinematography, but in animations, it's actually "camera, action, lights". The lighting is added after the layout and animating is complete in order to add more depth and build up the atmosphere of the scenes. If you pay more attention, the lighting in Carl's house is much darker when he's older, which sets up that sad and lonely mood of the scene.
4. Coco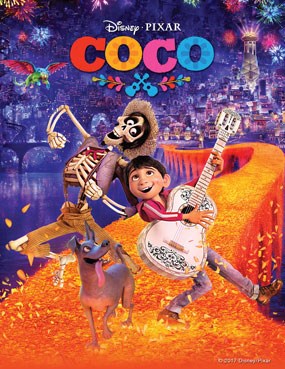 Coco is one of the latest Pixar movies that just came out, and you can just tell how much Pixar had improve their graphics after the years. The content is great, and I especially love the music of this animation. One of the challenge that the animators faced is trying to create emotions to their skeleton characters. As you might already know, most of our facial expressions comes from the contracting muscle and skin. So the animators had to come up with ways of how to give sense of feeling to the skull's facials without making it seems awkward and unnatural.
3. Monster University
Monster University circles around the idea of trying to prove yourself, and I find that very relatable, especially for teenagers. It's just a very fun movie to watch in general and that's one of the reasons why I love it so much. A point I want to bring up is the rigging involve in animations. Digital rigs are the virtual bones, joints, and muscles that allow models to move. They create a sense of flexibility to the models so that they can do different poses.
2. Cars
Cars is one of the older Pixar movies, however, it's also one of the best. The graphics are amazing and beyond its years. The story board is also very well-written. One of the innovation in terms of movie effects is the usage of surface appearance. A virtual model is only a shape, and the surface gives it texture and more appealing appearances. Believe it or not, the surfaces also help to tell a story, like how you can tell rusty Mater's life might have been different to Lightning McQueen's with his shiny red surface.
1.WALL-E
WALL-E, in my opinion, has to be the best Pixar animation of all time. It has all of the elements you need in a movie, great characters and content, amazing graphics, and has a lot of heart. The scenario of the movie is also very relatable, especially to our today's world where technology takes over and the planet is left in ruins. Pixar has massively developed their animation effects by the time this movie came out, as shown for the incredible outer space feeling that the movie offers.
Final Thoughts
Pixar movies is the result of when art and technology come together to make extraordinary work. It is truly a big revolution on the making of animated movies, setting up the bar for all of the animations to come. I just want to take a minute to acknowledge all of the people behind the amazing graphics, story board, characterization and great animations, in general. Most people might not know this but a single animated movie can take up to 7 years to make. That's 7 years of extremely hard work and dedication, just so we can have seventy five minutes of enjoying these amazing movies.