By Xavier Lam
In the past, many people diagnosed with cancer would face bleak futures with little to no successful treatment options. However, the recent growth of research in immunotherapy has revolutionized cancer treatment. Thanks to immunotherapy "patients with advanced cancer are increasingly living for years not months," said a recent editorial in the journal JAMA.
Germs and cancer cells have molecules on their surface that tell the immune system to find and destroy them. However, some cancer cells can look similar to normal cells and hide from the immune system. It is also possible that the immune system will find the cancer cells but not be strong enough to destroy them. Also, some cancer cells can even change how the immune system responds so it doesn't work properly.
Luckily, Immunotherapy tackles all these problems and uses the body's immune system to fight and target cancer. The immune system, which includes white blood cells and the lymph system, fights infections and diseases within your body. The treatment is classified as a biological therapy, using substances made from living organisms.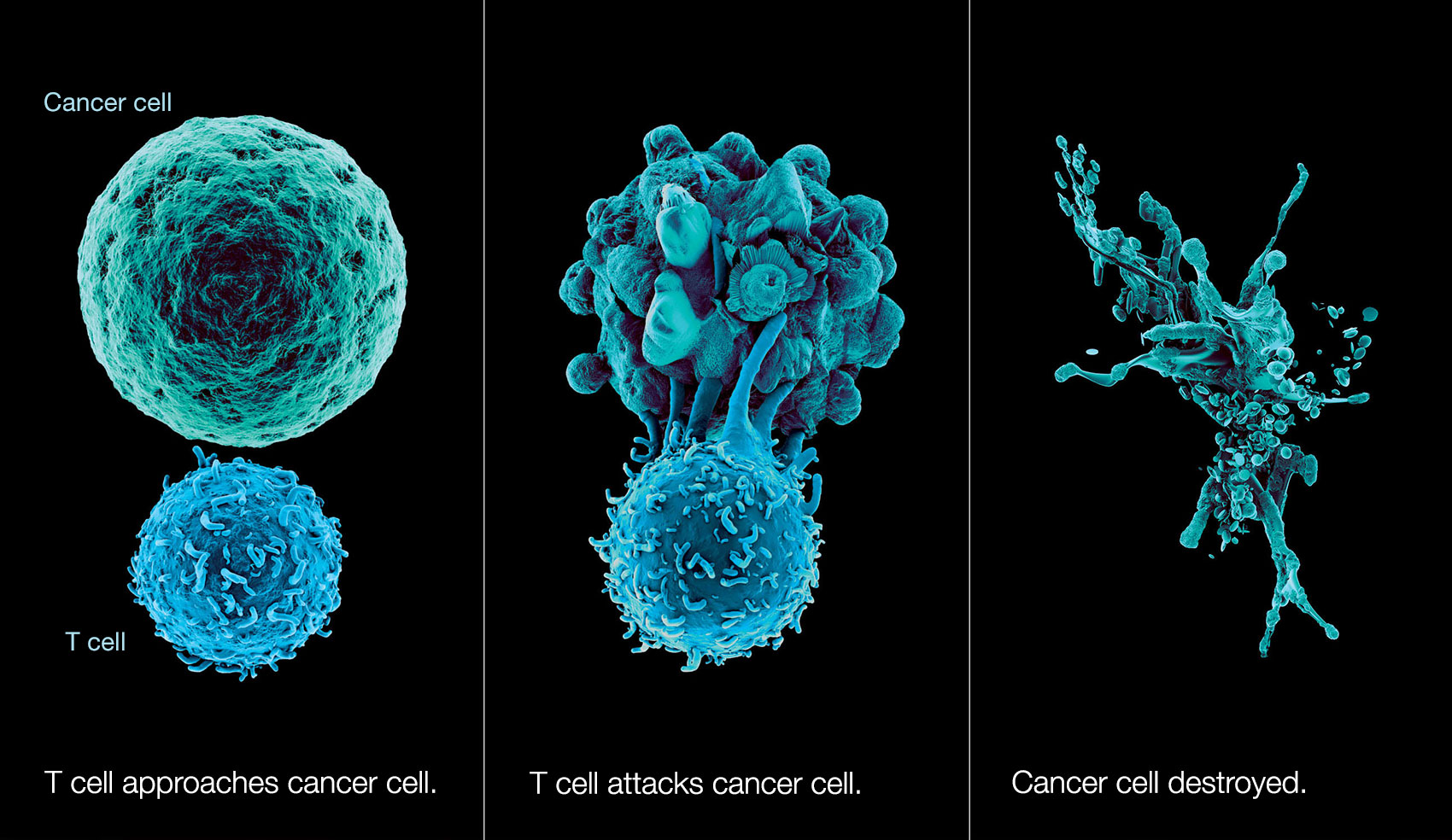 T cell destroys a cancer cell (C) NorthShore Kellogg Cancer Center CC BY 2.0
There are several types of immunotherapy treatments that work with the immune system. Some include:
Checkpoint inhibitors, help the immune system respond more strongly to tumours. These drugs work by releasing "brakes" that keep T cells (a type of white blood cell) from killing cancer cells. Instead of targeting the tumour directly, the drugs interfere with the ability of cancer cells to avoid immune system attack.
Adoptive cell transfer, attempts to boost the ability of your T cells to fight cancer. In this treatment, T cells are taken from a tumour. The most active cells against the cancer are grown in a lab then injected back into the body.
Treatment vaccines, work against cancer by boosting your immune system's response to cancer cells. These are different from vaccines that prevent disease.
Immunotherapy works differently than other traditional treatments such as chemotherapy, which uses drugs to destroy cancer cells but also healthy cells as well.
Personally, I have had a family member diagnosed with cancer and they would not be alive today if not for immunotherapy. While the field is still young and research is ongoing, I think that immunotherapy will be the future of cancer treatment.