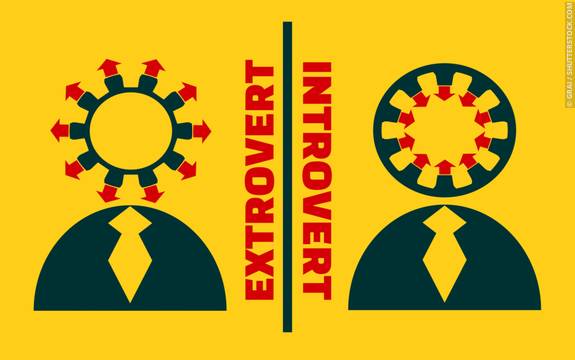 Extroversion and introversion are aspects of people's personalities that describe the way that a particular person focuses and gains their energy. An extrovert – sometimes spelled as "extravert" – is a person whose energy is focused outwards; they get more energy by interacting with other people. An introvert is a person whose energy is focused inwards; these people obtain more energy from spending time alone.

When I was reading about science on the Internet, I glimpsed a headline that caught my eye. This headline was about introverts' brains. I read the article and found it very interesting; I wanted to find out more about how a person's extroversion or introversion is connected to their brain. So, I decided to write my next blog post about this topic. I researched further and found some key differences between the brains of extroverts and introverts.
Neurotransmitter Differences
Dopamine
Firstly, extroverts are less sensitive to and more reliant on dopamine than introverts. Dopamine is a neurotransmitter – a chemical that carries messages between brain cells and other body cells. It is a sort of reward that is produced in the brain when an externally rewarding situation occurs; it produces an immediate feeling of happiness or euphoria.
The effect of dopamine is not as strong for extroverts as it is for introverts. So, to have the same level of happiness, the dopamine system has to be more active in extroverts' brains. Therefore, extroverts like to seek out more situations that will produce an external reward. These types of situations occur when someone "[acts] quickly, [takes] risks, or [seeks] novelty".
On the other hand, dopamine has a stronger effect on introverts. So, too much dopamine can cause them to feel overstimulated. Therefore, they tend not to socialize as much because their brains' dopamine systems don't have to be as active.
Acetylcholine
Instead of dopamine, introverts are more dependent on acetylcholine, a different type of neurotransmitter. Like dopamine, acetylcholine is a type of reward; however, acetylcholine is more of an internal reward. It makes a person feel "relaxed, alert, and content"; it also makes a person able to focus on one task for a long period of time.
The reward of acetylcholine is easier to gain in a calm environment; thus, introverts prefer being by themselves so that they can experience this reward.
In contrast, extroverts do not feel the effects of acetylcholine in a significant way, so they do not rely on it very much; instead, they depend on dopamine.
Brain Pathway Length
Dopamine Pathway
Since extroverts rely more on dopamine, when information passes through their brains, it goes through a pathway called the dopamine pathway. This pathway passes through the areas in the brain which regulate taste, touch, sight, and sound.
Acetylcholine Pathway
The information received by introverts' brains travels through a much longer pathway called the acetylcholine pathway. This means that information has to travel through many different areas such as the right front insular, which controls empathy, and Broca's area, which produces words and speech. It also travels through the right and left frontal lobes, which have many functions including judgment and spontaneity, and the hippocampus, which controls memory. Since this path is so long, introverts tend to overthink things more than extroverts do.
Gray Matter
The prefrontal cortex is the part of your brain that regulates personality, decision making, and social behaviour, among other things. It contains gray matter, which is a type of tissue in the brain where most of its activity happens.
Introverts tend to have a larger amount of gray matter in their prefrontal cortexes than extroverts; also, the gray matter that introverts have is thicker on average than that of extroverts.
Thanks for reading!
Gabby Salumbre